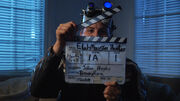 Emerson Wild: Monster Hunter is a defunct webcast series, created by Zack Finfrock and co-written by Brian Clevinger, who both also worked on Warbot in Accounting together. It is said by Finfrock to be "Hellboy meets Buffy with a little Ghostbusters and Men in Black". A teaser can be seen here.
Not much information has been given out about the series, but Finfrock had mentioned the synopsis being about an incompetent monster hunter, running a solitary, "licensed" monster-hunting agency.
External links
Edit
Ad blocker interference detected!
Wikia is a free-to-use site that makes money from advertising. We have a modified experience for viewers using ad blockers

Wikia is not accessible if you've made further modifications. Remove the custom ad blocker rule(s) and the page will load as expected.