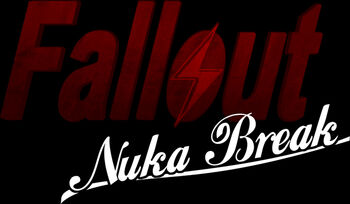 Fallout: Nuka Break is a series of fan-made live-action short films written by Zack Finfrock and Brian Clevinger, under the production company Wayside Creations, which Finfrock co-founded. The series started as a 16-minute fan film, but due to popular demand, the film became a series of short episodes.
The series itself documents the adventures of three characters: a vault dweller named Twig, a ghoul named Ben, and a freed slave named Scarlet. Through each episode they travel across the Fallout universe, from the Capital to the Mojave Wasteland.
External Links
Edit
Ad blocker interference detected!
Wikia is a free-to-use site that makes money from advertising. We have a modified experience for viewers using ad blockers

Wikia is not accessible if you've made further modifications. Remove the custom ad blocker rule(s) and the page will load as expected.