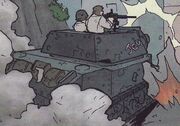 Jeb was the name of a small tank used by Lt. Everett and his men to subdue most of the Laufpanzers, with Robo's help. It found its purpose when Robo did a surprise attack and rammed the vehicle into a Laufpanzer and quickly capturing the rider. He devised the plan with Everett and his men, and so with the help of the tank, they were able to destroy five more in one day.
Ad blocker interference detected!
Wikia is a free-to-use site that makes money from advertising. We have a modified experience for viewers using ad blockers

Wikia is not accessible if you've made further modifications. Remove the custom ad blocker rule(s) and the page will load as expected.